Clever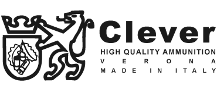 Best shooters choose Clever Mirage. Very High Quality, a characteristic that will satisfy even the most demanding customers.
Clever cartridges have won everything possible to win and is meeting the needs of shooters from all over the world for over 60 years.
The Clever company's exasperation for quality checks has made it the winningest Olympic shell in history because of the exceptional quality and consistency of the shell. This Top Quality Shell is now available to you from Shells 'R Us LLC.
To find out more, visit their web site.